How Much Do the Air Condition Repair Services Cost in Abu Dhabi?
Similar to other machines at your home, AC as well requires regular maintenance. Especially during summer seasons when ac is used regularly, we forget that these appliances need repairs. However, neglecting this often results in more problems and also ends up costing more. Therefore one must always take care of their ac by doing regular services to save both time and money.
What are the Major Benefits of Having an Air Conditioner Serviced?
Thinking if air conditioning services are worth hiring or not? Simply put, the answer is yes. And here are the reasons why it is worth it;
● Extends the Life
When used for a longer amount of time, every machine needs to be serviced. And when talking about air conditioners, if regular AC Maintenance is not given, having one at home is pointless. This is because regular maintenance ensures that your air conditioner operates effectively and lasts a long time.
● Better Performance
Wondering why it is necessary to opt for an ac repair company in Abu Dhabi? This is because regular AC maintenance ensures that you are breathing clean air free from contaminants like dust and bacteria. Therefore, every form of impurity present in the collecting unit is reduced by servicing the air conditioner with the help of professionals.
● Promotes Safe Environment
Your job doesn't come to an end with air conditioning installation. There is more to it. HFCs are man-made greenhouse gases that are produced as a result of AC issues like refrigerant leakage. These glasses are not only bad for the environment but also play a significant role in accelerating global warming.
However such leakage difficulties are quite infrequent when your air conditioner is regularly maintained. Therefore this is another reason why opting for an ac repair servicing company in Abu Dhabi would be worth it.
How much will it Cost for an Air Conditioner Repair Service?
Wondering how much an air conditioning repair service would cost?Basically, the cost depends on several factors such as the condition of the air conditioner, the type or brand of air conditioner you have or even the type of professional you are choosing.
However, in general, the cost of AC repair in Abu Dhabi ranges from AED 120 to AED 300. Whether you opt for basic repair service or looking for intensive repair, repairing your AC is always worth the value. However, all you have to do is opt for a reliable ac repair service.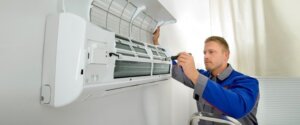 Hire the Best Professionals in Abu Dhabi!
When looking for ac repair services, you'll surely come across Al-Waha Hygiene. This is because we top the list as we are the leading providers of ac repair services in Abu Dhabi. Our company  has provided services to thousands of customers and still is the first choice of clients. With dedication and years of experience, we have successfully made a name in the industry. Be it flexibility, affordability, various types of services or top-notch service, we ensure our customers get the best services.