5 Reasons to Get Your Facade Cleaned in Dubai
Facade cleaning is an important and necessary service for maintaining the appearance of your property in Dubai. Not only does it improve the aesthetic of your home or business, but facade cleaning can also help protect the structure from further damage and decay. In this blog post, we'll discuss five compelling reasons why you should consider getting your facade cleaned in Dubai.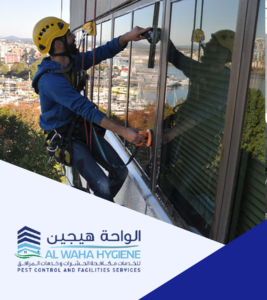 1) The Importance of First Impressions
Your facade is the first thing people will see when they come to your business or property. Making a good first impression is essential in today's world, and this means keeping the exterior of your building well-maintained. Rope Access Cleaning and External Glass Cleaning Services can be used to keep your facade clean, as well as Window Cleaning to keep your windows sparkling. A clean facade helps create a positive impression on passers-by and potential customers, encouraging them to visit and experience what you have to offer.
2) High Rise Window Glass Cleaning
External glass surfaces of high-rise buildings need to be regularly maintained for a clean and presentable look. Rope access cleaning is one of the most efficient ways to clean the windows of skyscrapers. This form of external glass cleaning services eliminates the need for costly and inconvenient scaffolding systems, making it easier to clean hard-to-reach surfaces. Rope access window cleaning involves professional technicians suspended on ropes, safely and effectively cleaning the entire glass surface from any height. The rope access cleaning method is not only more cost-effective than other solutions, but also more reliable and safer.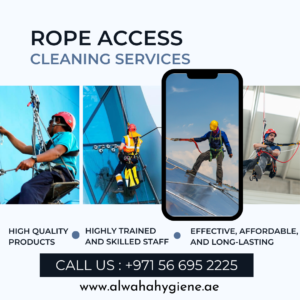 3) Facade Sealant Rectification
To keep your building's facade Cleaning looking its best, you should also consider rope access cleaning or external glass cleaning services. This is a specialized process of window cleaning that includes the inspection and repair of sealants between stones, panels, glass, and other parts of the facade. By using this method, you can make sure that your building is safe from water damage, corrosion, and other external elements. Moreover, having a professional do the job will ensure a high-quality result.
4) Superior Quality Services Guaranteed
When you're looking for reliable and superior quality cleaning services in Dubai, you can trust Al Waha Hygiene. We offer highly effective external glass cleaning services for commercial, retail, and hospitality settings. Our professional window cleaning team specializes in using the best products and techniques to deliver a pristine look for your windows and facade. We guarantee a high level of safety and satisfaction with all of our services, as our team is certified by facade cleaning company. Plus, all of our cleaning services are carried out in compliance with the strictest safety standards. When you choose us, you can rest assured knowing that you're getting the highest quality results.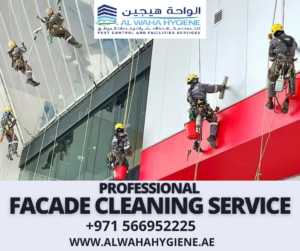 5) The Benefits of Professional Facade Cleaning Services
Maintaining a clean facade is essential for making the right impression on customers and visitors. Professional Facade Cleaning Services provide comprehensive external glass cleaning services, from rope access cleaning to window cleaning. This can help make your building look its best and project the right image. At Al Waha Hygiene, we have the expertise to ensure your facade is cleaned properly and looks immaculate. Our high-quality service includes effective sealant rectification to protect against future weather damage, as well as deep cleaning of windows for better visibility. With our ISO-certified service, you can be sure your facade is in safe hands.