Advantages of Hiring Professional Facade Cleaning Services
Facade cleaning requires specialized skills, equipment, and knowledge that set it apart from other types of cleaning. It is a challenging and time-consuming task that involves risks. Therefore, it is highly recommended to hire professional facade cleaning services in Abu Dhabi.
Here are the reasons why you should consider hiring a professional for facade cleaning: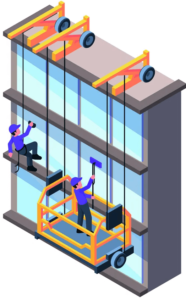 Professionalism: A facade cleaning company will bring a high level of expertise and professionalism to the task. They use effective cleaning solutions and follow well-defined cleaning processes to achieve optimal results. Unlike inexperienced individuals or teams, professionals inspect the facades thoroughly, identify the specific cleaning requirements, and execute the task with precision.
Cost-effectiveness: Unlike the misconception that professional facade cleaning is expensive, hiring a trusted cleaning agency in Dubai, Abu Dhabi can be cost-effective. When you have an in-house team responsible for facade cleaning, you need to consider expenses related to training, procuring materials and accessories, supervision, and time management. Outsourcing the task to professionals eliminates these additional costs and ensures efficient use of resources.
Risk Avoidance: Facade cleaning is a risky endeavour that requires extreme caution. Even a small mistake or lack of attention can lead to severe consequences. Professional cleaning companies have trained personnel who are well-versed in safety measures and use specialized equipment to minimize risks. In case of any unfortunate incidents, a professional company will handle the situation, relieving you of any liability.
Methodical and Effective Cleaning: Facades often harbour stubborn stains such as bird droppings and tree saps that are difficult to remove with standard cleaning methods. Professional facade cleaning services in Dubai, Abu Dhabi employ systematic cleaning techniques and exclusive cleaning solutions to eliminate all stains, dust, and dirt, leaving your facade looking fresh and rejuvenated.
Long-lasting Results: Regular cleaning may not provide long-lasting cleanliness, as facades can quickly accumulate dirt. However, professional cleaning companies use specific cleaning solutions that not only deep clean the surface but also ensure longer-lasting cleanliness, reducing the frequency of cleaning required.
When choosing a facade cleaning service in Dubai, Abu Dhabi, consider the following factors: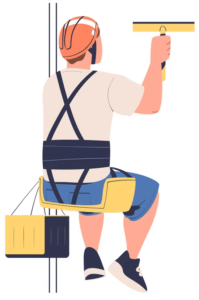 Experience: Assess the expertise of the professional cleaning company by reviewing its client list and the range of services they offer. Even newer companies can provide valuable services based on their expertise and approach.
Reliability: Look for online reviews and ratings to gauge the reliability of the company. Be mindful of distinguishing genuine reviews from paid ones orchestrated by PR agencies.
Cleaning Methodology: Engage in discussions with selected cleaning companies to understand their cleaning methodologies. An experienced façade cleaning service will have tailored methods designed for optimal results.
Pricing: It is unnecessary to overpay for facade cleaning services in the UAE. Trustworthy and experienced companies like Al Waha Hygiene offer high-quality services at reasonable rates. Ensure that the pricing aligns with the level of service provided.
A reliable facade cleaning service in Dubai, Abu Dhabi should possess the following qualities:
A dedicated team of facade cleaners with specialized skills to deliver outstanding and long-lasting results.
Trained and certified professionals who are proficient in all aspects of façade cleaning.
Preference for biodegradable cleaning agents to minimize negative environmental impacts and promote a healthy ecosystem.
Government certifications and licenses that demonstrate compliance with regulations and industry standards.
Insurance coverage for their facade cleaners, which can be verified with the cleaning company before assigning them the task.
For all your facade cleaning needs in Dubai, Abu Dhabi, you can count on us. With years of experience and a trusted reputation, we are one of the leading Rope Access Cleaning services in the region.