Enhancing Safety and Efficiency in Rope Access Cleaning Services and Maintenance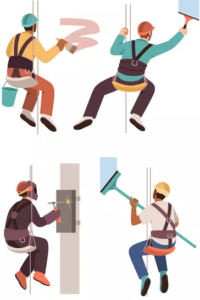 Rope access cleaning is a specialized technique used for washing high-rise windows and inaccessible areas of buildings. Al-Waha Hygiene, a professional provider of rope access cleaning services in Abu Dhabi, offers reliable and safe facade cleaning services in Abu Dhabi. With a focus on safety and expertise in unique techniques, Al-Waha Hygiene ensures efficient and effective cleaning solutions. In this article, we will explore the range of rope access cleaning services provided by Al-Waha Hygiene.
Our Rope Access Cleaning Services in Dubai
We offer a wide range of rope access cleaning services, including:
Window Cleaning: Our technicians use rope access techniques to reach unreachable windows in buildings. This hands-on approach ensures thorough cleaning and detailing of the windows, providing a clear and sparkling result. By utilizing rope access, we reduce the time required for window cleaning, making it a convenient and efficient solution for our clients.
Facade Cleaning: The exterior of a high-rise building often accumulates dirt, grime, stains, and pollutants over time. Our facade cleaning services effectively remove these contaminants, enhancing the overall appearance of the building. With our expertise and specialized tools, we ensure a thorough and meticulous cleaning process.
Importance of Rope Access Service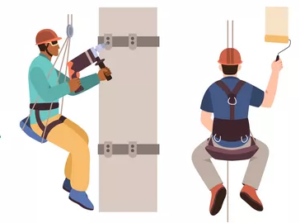 Rope access has become the preferred method worldwide for working at heights due to its numerous benefits:
Safety: Rope access is considered the safest method for working at heights. We prioritize safety and adhere to stringent safety protocols, ensuring the well-being of workers and preventing accidents.
Accessibility: Rope access techniques enable technicians to reach difficult-to-access locations, including high-rise buildings and confined spaces. This versatility allows for thorough cleaning and maintenance in areas that would otherwise be challenging to reach.
Cost-effectiveness: By eliminating the need for conventional equipment like scaffolding, rope access services offer cost-effective cleaning solutions. The reduced setup and mobilization time also contribute to overall project cost savings.
Time Efficiency: Rope access cleaning services ensure efficient and timely completion of projects. Technicians can navigate complex environments with ease, minimizing downtime and disruptions to regular operations.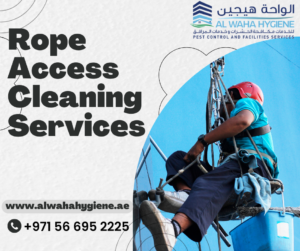 Conclusion
Al-Waha Hygiene's rope access cleaning services provide efficient, safe, and cost-effective solutions for high-rise buildings. Whether it's window cleaning, facade cleaning, pressure washing, external glass cleaning services, or light installation and maintenance, Al-Waha Hygiene's skilled technicians utilize rope access techniques to deliver exceptional results. With a commitment to safety, expertise in unique cleaning techniques, and a focus on client satisfaction, Al-Waha Hygiene is a trusted choice for rope access cleaning services in the UAE.