Expertise in Work-at-Height Services and Facade Cleaning Services
Working at high altitudes presents many challenges, and is a demanding job found in various industries ranging from manufacturing to petrochemicals in the UAE. Even service-oriented sectors such as hospitality and software require working at height scenarios for tasks such as cleaning building facades. E-commerce service providers are also required to maintain quality standards, certifications and cleanliness of their warehouses inside and outside to maintain general health and hygiene.
Al Waha Hygiene, the leading company of Facade Cleaning Services, offers a wide range of services, including Rope Access. With over a decade of experience in this field, we bring valuable insights to every project and have established a commendable reputation for our commitment to safety, quality of work, and innovative processes.
To achieve success, we employ several key strategies: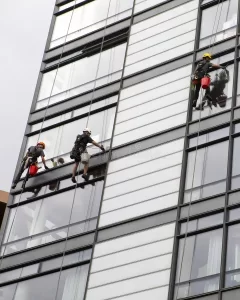 Thorough job study and scope definition
At Al Waha Hygiene, we take pride in conducting a comprehensive analysis for each assignment, be it exterior glass cleaning or window cleaning for industrial purposes. Our discussions with customers are holistic and realistic taking into account all practical considerations. By defining the scope of work, we establish clear boundaries, roles and responsibilities, ensuring transparency in operations and decision-making.
Once the scope is agreed upon, we proceed with careful planning. This includes collaborating with clients to establish appropriate timelines considering the specific needs of their industry. Because our initial scope definition is broad and we proactively ask essential questions, the planning phase becomes more manageable. We address challenges not only related to accessibility but also challenges related to the nature of work, wind and weather conditions, and other site-specific factors, using concrete plans to overcome these constraints.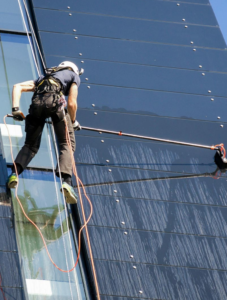 A well-crafted plan is only as effective as its execution. Although this may sound like a simple observation, the gist is this.
Our highly trained team members can handle various work scenarios at height. With our unparalleled safety record and extensive experience in the field, we ensure that any local challenge can be tackled using the right resources, equipment and techniques. This enables us to complete projects on time without compromising on quality.
Continuous monitoring and feedback
We maintain close supervision and monitoring during all activities. Although we specialize in the use of rope access, we adopt suitable methods according to the specific conditions of each site, such as scaffolding, lifting equipment, scissor lifts and booms. As one of the best facade cleaning companies in UAE.
Close monitoring and site supervision not only contribute to reducing the risk of accidents but also to early detection for necessary adjustments. We maintain open communication channels with our clients, keeping them updated about the progress of various works. Any deviation or observation is immediately highlighted and discussed.
Project closure and customer satisfaction
Upon project completion, we conduct a formal sign-off process. We give the utmost importance to customer feedback and continuously strive to improve our processes. Additionally, we provide general maintenance services as needed with separate contracts covering these aspects and other service offerings. By providing fair pricing, effective project management and a client-focused approach, we aim to build genuine relationships and deliver significant business value.
While the above description provides a general overview of our services, we remain open to a variety of processing methods and activities. Every workplace is unique, and our practices are tailored accordingly.
If you require works-at-height services, facade maintenance services, or industrial rope access services, please contact us at info@alwahahygiene.ae.