How Much Does Deep Cleaning Service Cost in Sharjah?
People often go for Deep Cleaning services as it effectively cleans every possible corner of our home, office, or place where the services are performed. After we faced the pandemic phase, we learned how sanitization and deep cleaning services are very important as we cannot see germs and viruses with our bare eyes. Only professionals can do it properly. We at Al-Waha Hygiene offer professional cleaning services at very affordable prices. We do the best Deep Cleaning Services in Sharjah and almost every other place in the UAE.
What Will Be The Cost Of Professional Deep Cleaning Services In Sharjah?
When going with residential & commercial cleaning services, there are certain charges that should be paid. The main aim of cleaning services is to keep us safe and make every place around us where we used to spend most of our time germ-free.
When Covid hit us, the cleaning services around us did an excellent job and of their rigorous efforts of keeping everyone away from germs and viruses, the pandemic got over. Normally we can avail of deep cleaning services by paying AED 50 per hour to AED 65 per hour. But the prices can change based on the services we need.
We are a provider of the best and most affordable deep cleaning services in UAE. We have a team of professionals who are entitled to be the best in the market. We offer the following services in our deep cleaning procedure – commercial cleaning services, post-construction cleaning services, housekeeping services, etc.
All of these services are indeed required for making a germ-free atmosphere where we can keep our people safe and healthy.
The charges that our Al-Waha Hygiene can offer for Deep Cleaning services in Sharjah are the most pocket-friendly option in the market.
Our Company is an ISO-certified company and we also offer temporary house cleaning services along with other services. We can offer our best price for deep cleaning operations and for getting the same one should contact us in advance.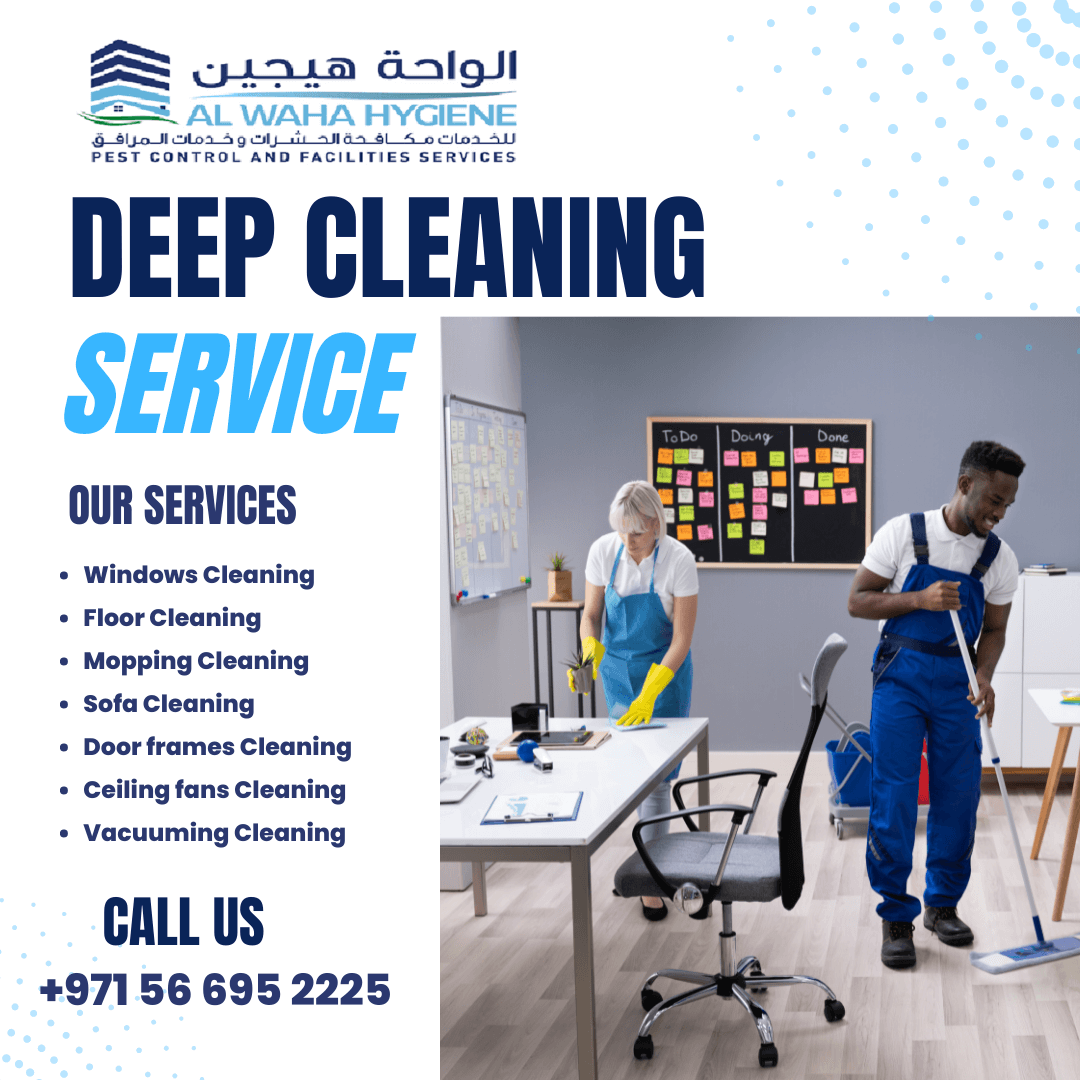 What Services Are Included In Deep Cleaning Method?
Deep cleaning is completely different from the regular cleaning process. We all clean our house, office, and surrounding areas almost every day but this cannot remove the germ build-up or virus effects completely. There are certain cleaning tasks that can be done by professionals only. The special cleaning procedures that Al-Waha Hygiene provides can efficiently remove dirt, pollution, germs, etc. deep cleaning services in Sharjah includes the following cleaning and Sanitization process –
● Complete cleaning and sanitization of all household furniture
● Cleaning of ceiling fans, light holders, and other electronic gadgets
● Upholstery cleaning and vacuuming
● Cleaning and sanitization of blinds
● Surface cleaning and sanitization
● Dusting and cleaning of decorative pieces
● Windows cleaning and sanitization
● Door and frame cleaning and sanitization
● Basement cleaning and sanitation
● Cleaning of garbage beans and trash cans with sanitization
● Cleaning of the bathroom floor, fittings, etc. with sanitization
● Cleaning and disinfecting kitchen appliances
● Cleaning of bathroom tiles, kitchen shelves, and other places, etc.