Require Building Cleaning Using Rope Access Techniques?
Are you interested in regularly cleaning the window glass panels, glossy exteriors, and facade of your building?
If you have conducted thorough research on options, such as scaffolding and Mobile Elevating Work Platforms (MEWPs), you may have come across rope access as an alternative.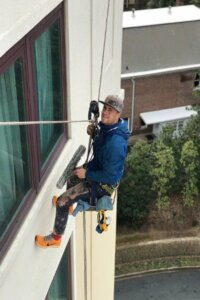 What About the Utilization of Rope Access?
Rope access has gained popularity as a simple, efficient, time-saving, and cost-effective method of accessing high-rise structures. Using industrial ropes and mobile equipment, IRATA-certified technicians can clean the windows or the entire exterior of a building with great precision in a short amount of time.
The technique of industrial rope access cleaning services is utilized in various industries and applications, including offshore sites in the oil and gas industry, and construction activities such as building structures, wind turbines, oil rig platforms, and bridges. It is extensively used for the maintenance, inspection, and repair of high-rise buildings, especially in challenging and inaccessible areas.
Rope access technicians undergo specialized training to withstand the challenges of working at high altitudes, extreme heat, wind, and adverse conditions. Depending on the tasks they need to perform, technicians acquire different levels of qualifications, such as:
Rope Access Building Cleaning.
Construction cleaning and disinfection.
General Maintenance work and repairs.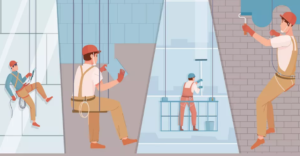 Rope Access Technician Required
Becoming a rope access technician requires certification from IRATA International, the recognized body for rope access qualifications in Abu Dhabi. Technicians can aim for three levels of qualifications: Level One, Level Two, and Level Three, depending on their career aspirations and goals.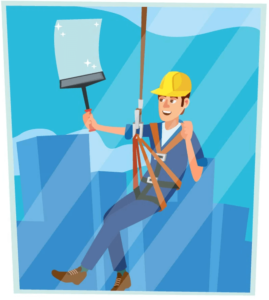 What Factors Should Rope Access Technicians Consider?
Aspiring rope access technicians should consider the physical demands of the job and ensure they are physically fit and mentally prepared for working at elevated heights. Individuals experienced in abseiling, caving, and other related techniques, such as electricians, plumbers, civil workers, and painters, may find rope access training more accessible and more comfortable.
Rope access is highly preferred by industries and building owners due to the competency and certification of technicians, ensuring the safe, quick, and cost-effective execution of hazardous tasks.
IRATA certification remains valid for three years from the assessment date. Technicians must undergo reassessment to maintain their recognition after this period. It is also necessary for rope access personnel to remain actively engaged in their field. If they are inactive for six months, they must complete a refresher course to regain their active status.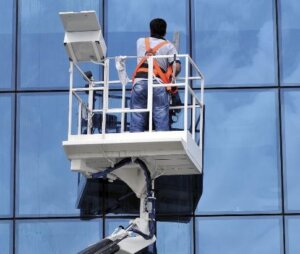 Are you Searching for a Well-Established Rope Access Company with experience?
If you are looking for experienced facade cleaning services in Abu Dhabi, Inspection & Rope Access Specialists are a trusted choice. They have extensive experience working on various structures and buildings throughout Abu Dhabi and the UAE. Their team consists of competent professionals equipped with Level Three IRATA qualifications as Rope Access Supervisors.
For more information, you can explore their Rope Access Services or contact them to discuss your project.