Transform Your Building's Appearance with Facade Cleaning Services in Abu Dhabi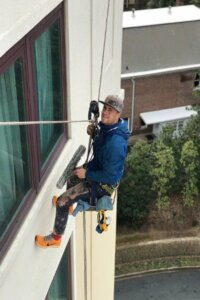 When it comes to the appearance of your building, first impressions are everything. A clean and well-maintained facade not only enhances the aesthetic appeal but also reflects positively on your business or organization. However, with Abu Dhabi's harsh climate and dusty conditions, keeping up with facade cleaning can be a daunting task. That's where our expert facade cleaning services come in!
What is Facade Cleaning?
Facade cleaning refers to the process of cleaning and maintaining the exterior surfaces of a building. These surfaces can include walls, windows, doors, roofs, and more. The goal is to remove dirt, grime, stains, and other types of buildup that accumulate over time due to weather conditions such as sandstorms or pollution.
Facade cleaning not only improves aesthetic appeal but also has several practical benefits. A clean exterior enhances the value of your property by preserving its structural integrity and preventing damage caused by corrosive substances like algae or mould.
The Benefits of Facade Cleaning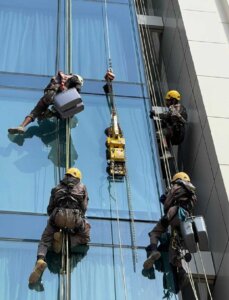 Facade cleaning is an essential service that every building owner should consider to enhance the appearance and durability of their property. Numerous benefits come with conducting regular facade cleaning.
facade cleaning can significantly improve the visual appeal of your building. A clean exterior eliminates dirt, grime, and other unsightly stains which may be caused by pollution or weather elements. This makes your building stand out from others in Abu Dhabi's competitive real estate market.
facade cleaning enhances the longevity of your building's exterior surfaces. Dirt buildup on windows can cause scratches and cracks leading to costly repairs or replacements if left unattended for a long time.
Regular facade cleaning helps maintain good indoor air quality within your premises since it gets rid of dust build-up on windowsills and ledges where pollutants accumulate over time.
Investing in professional facade cleaning services ensures that you keep up with high standards of hygiene while enhancing the overall value and look of your property in Abu Dhabi.
Abu Dhabi's Leading Facade Cleaning Service Provider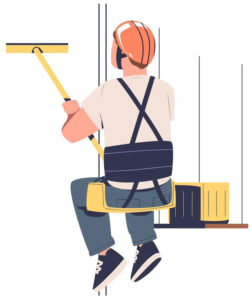 Al Waha Hygiene is a company that has been providing exceptional facade cleaning services for years. With our team of highly skilled and experienced technicians, we have managed to transform the appearance of countless buildings in Abu Dhabi.
What sets our company apart from its competitors is its commitment to using eco-friendly and sustainable cleaning methods. We prioritize the safety of Our clients as well as the environment, making sure that our techniques do not harm any living organisms or damage building structures.
We use state-of-the-art equipment and tools to ensure efficient and effective cleaning results. Our team also undergoes regular training to keep up with the latest industry standards and best practices.
Clients can expect personalized service from our company, as we provide tailored solutions depending on each building's unique needs.
How We Can Help You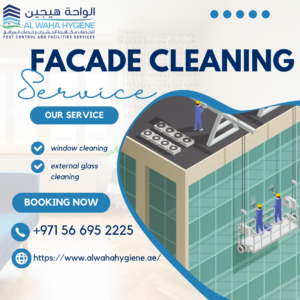 At Al Waha Hygiene, we offer a wide range of professional cleaning services to meet all your building maintenance needs.
We pride ourselves on using the latest technologies and techniques to ensure that your building's exterior looks its best at all times. Whether you need window washing, pressure washing, or delicate stone restoration, our team has the expertise and equipment necessary to get the job done efficiently and effectively.
Our services are designed to help you save time, money, and resources while ensuring that your building always looks its best. With our regular maintenance packages, we can keep your façade looking clean, attractive, and inviting for years to come.
Conclusion
Facade cleaning is an essential service that can transform the appearance of your building and improve its overall value. With Abu Dhabi's leading facade cleaning service provider, you can be confident in receiving high-quality services tailored to meet your unique needs
By choosing our professional team at Al Waha Hygiene, you can rest assured that we will provide thorough and efficient cleaning using the latest technology and techniques. We are committed to ensuring your complete satisfaction with every project we undertake.