Why Does Your House Need a Deep Cleaning Service Every Season?   
Most households put regular effort into washing and vacuuming the countertops on a daily basis. It would not be wrong to say that they follow a strict cleaning routine. But the question is how frequently do these households clean the fan blades, the oven, or the hidden corners of the house?
Well, if you have no answer, then know it is time to hire Deep Cleaning Services in the UAE. However if you are wondering what deep cleaning is about or why you should do it every season, then read until the end to discover more.
What is Deep Cleaning?
Deep cleaning services in UAE can be understood as the process of removing deep dirt and grime from the home by thorough cleaning. It includes cleaning the areas that regular cleaning does not include.
The major goal of this type of cleaning is not only to eliminate visible dirt but germs and bacteria as well. However, it is very important to rely on the best cleaning company in Dubai like Al Waha Hygiene for such services as they are well experienced and trained in offering exceptional services.
Why is Deep Cleaning Service Important in Every Season?
If you have considered hiring Deep Cleaning Services in UAE and have been suggested to take it up every season, then you must be thinking why so? Well, in that case, you are suggested to check out the reasons below to understand how deep cleaning services are important in every season.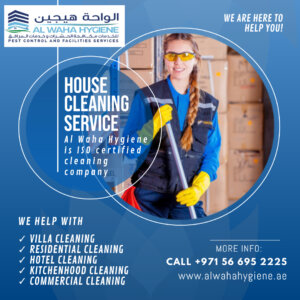 ● Why is Winter Cleaning Important?
When it comes to seasonal cleaning, winter cleaning is very important as you would find the gutters to be clogged with snow and debris.
Not to mention, the kids would have left no chance either to make the house messy. When you carry out a thorough cleaning service of the house, it would ensure that the leftover turkey crumbs are not left behind and the soiled footprints left by family members have also gone.
●Is Spring the Time to Declutter?
Spring is undoubtedly the best time of the year to do thorough cleaning and organizing stuff. Once the winter season is over, people are likely to unpack new things and get rid of the old ones. It is likely to make your whole home messy.
But once you are done with sectioning the things you want to keep and want to get rid of, you may end up making a whole mess. This is when relying on Residential & Commercial Cleaning Services is recommended to transform your house into a new one.
●Summer Cleaning is a Must
As summer ends, you would find your house pleading for deep cleaning. This is more obvious if you have kids at home.
From the rug covered in nail polish to the pool or the shower getting dirty with all the soil and mud – you may want it all gone. This is when hiring deep cleaning services is recommended so your home looks healthy and hygienic in every way.
●Prepare for Holidays with Fall Cleaning
It is unarguably true that your home may be covered with debris everywhere after the fall. You may discover that the home's gutters are overflowing with branches and leaves which could clog the gutter system if not cleared.
Even the outdoor air conditioner may collect leaves and twigs making it important to clean those areas. You would never know what kind of messes you might uncover which makes deep cleaning highly recommended.
Choose the Best Deep Cleaning Service Provider Today
When looking forward to Deep Cleaning Services, you may be overwhelmed with the options available in today's market. This is why you are being introduced to us at " Al Waha Hygiene " who are the leading service providers.
At our company, we offer a wide range of services to clients and also come up with customized solutions when required. Our clients can expect to receive complete support and care from our team when hiring us for House cleaning services at highly affordable rates. Not to mention, you can rely on us for a free inspection and quote as well.