Which is the Best Season for Facade Cleaning in Abu Dhabi?
Everyone is aware of the fact of how important it is to keep the business's interior clean. Be it shop units, office workspaces, warehouses, or any other place – maintaining cleanliness leaves a good impression. But what about the outside of the building? The visitors will initially see the property's facade.
Now imagine it is unclean. Would not it leave a bad impression? Therefore, you must take every precaution to keep the outside of the structure tidy all the time by hiring one of the best facade cleaning companies in Abu Dhabi.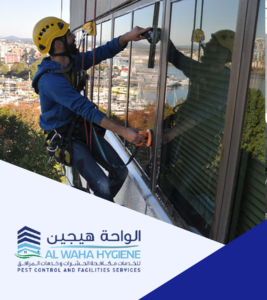 What is Facade Cleaning? 
Facade cleaning can be understood as the process of ensuring that the facade of the building is free from all types of debris, stains, sludges, and pollutants. Some other common materials that are used in building facades and can be found composed of include stainless steel, aluminum, glass, stone, and wood.
Several factors can make the building facade look soiled or faded causing a bad impact on its overall appearance. Besides just hiring general maintenance services that make the interior look good, business owners should focus on cleaning the exterior as well.
Also, you must know that how the facade is cleaned completely varies depending on the material it is made from.
Why is Facade Cleaning Important?
Before you hire from one of the best Facade Cleaning Companies, it is important to know why is it important to clean the facade in the first place.
Well, simply put – having a well-kept building is more aesthetically pleasing than one that is not maintained properly. Undoubtedly, an updated facade gives off a friendlier, inviting, and leaves a positive impression besides setting the tone for the rest of the structure.
When the exterior of the building is kept clean by hiring External Glass Cleaning Service and is free from all kinds of filth, stain, or unpleasant blemishes- it not only impresses the onlookers but the visitors as well who may be coming to your company. Other than that, it helps in reducing the chances of the spread of diseases. It does not matter if you own the structure or have rented one – it is equally important to keep the facade clean and tidy.
Which is the Best Season for Facade Cleaning in Abu Dhabi?
If you have made up your mind to opt for facade cleaning and are wondering which is the best time to do it, then know that spring should be your first choice. Abu Dhabi experiences spring from March to April.
During this time, Abu Dhabi does not gets used to the dry and hot climate. The temperature at this time is bearable and just wearing sunscreen and a pair of sunglasses does the work. Also one may not experience too much heat, the sea remains warm, and there is no strong wind or rain at all.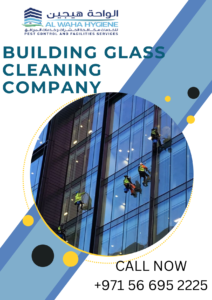 This simply means that the Building Glass Cleaning Company would not experience any kind of interference or obstacles while carrying out the service. Furthermore, during this time of the year, It is a good idea to take off any coverings from walls and roofs that may have been decades old right now. Also, the facades can get rid of moss, algae, dirt, fungi, and other substances.
Choose a Hassle-Free Facade Cleaning Solution Now !! 
When looking forward to the best Facade Cleaning Companies in Abu Dhabi, our name Al Waha Hygiene tops the list. This is because we are true professionals and have been offering services for over a decade now. Our team has highly trained and experienced individuals who carry out the services of Rope Access Services using innovative techniques and unique approaches.
We come to your doorstep with all the necessary tools that may be required during the service. All you have to do is give us a call for a free inspection and quotation. We offer you a free estimate keeping the budget and customization needs in mind. Then expect us to come to your location at the appointed time and get the facade cleaning done at affordable rates.